| | | |
| --- | --- | --- |
| The Hidden Gem of Hout Bay | | Hout Bay Museum |
---

by Jonathan Dreyer
Many people are unaware of the fascinating wealth of memories and information of Hout Bay's past, to be found in the charming cottage Museum, hidden away in a fynbos garden setting on Andrews Road, just off Main Road behind the Shell Garage.

The Museum was started in 1978, by a group of enthusiastic people who were concerned about the rapid development of the village and with it, the disappearance of things, which had been part of Hout Bay for so long. With a newly painted cottage and Pam Wormser as the Curator, articles from the days gone by, began to roll in and with the help of lots of 'Friends', the history of Hout Bay was saved for the generations to come.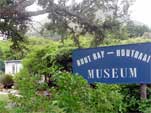 Hout Bay museum
The Museum is beautifully laid out and one can spend many happy hours finding out where Hout Bay came from and how it grew from a few farms and a Fort, into a thriving fishing village.

The Museum is well known for the activities which centre around it, from the Environmental Centre for the children, Fireside Chats in the winter, Sun-downer Evenings in summer and the Guided Walks every weekend, which take you out into the mountains and around the coast to learn more about where we live.

Whether you are a resident or a visitor, Hout Bay Museum is a place which will take you back in time and where you can browse through the records of our village. It is all there, tucked away in this cottage with its little indigenous garden.
---
Rev. Jonathan Dreyer
Hout Bay Museum
4 Andrews Road
Hout Bay, 7806
Tel./Fax: +27 (0)21 790-3270

hbmuseum@telkomsa.net


Open:
Mon - Thu: 08:00h - 16:30h
Fri: 08:00h - 16:00h


Map

Source: News November 2006


Contact Sheet